Time is money. You perform a digital marketing audit to lay the right foundation for an effective digital marketing system and to ensure a good ROI on your efforts. This article is all about how to do it right.
Today all marketing = digital marketing, and every company is a digital media company. You might be at the early stage of implementing digital marketing in your business or you might already be getting some results. Wherever you are, our CRACK model will help you check progress or get you to speed with the first steps to growing revenue online.
Before we start, gather your auditing tools and wear your analytical hat. Spreadsheets, whiteboard, pen and paper etc. Also you will need a framework for grading. If you are a visual person, use Green, Yellow and Red to mark what to keep, review and delete from your digital marketing. If you are a checklist type of person, a model to consider is the Start-Stop-Continue model. In the end, use whatever grading system works for you.
The CRACK model for digital marketing audit stands for – Connectedness, Relevance, Automation, Conversion and KPIs.
Let's dive straight into how to use this model for your audit.
Connectedness
Whatever business you are in, potential customers take a unique path until they buy from you. Your channels and content should take customers from one stage of the journey to another. Most businesses tend to forget this link when they plan content and channels.
In practice, this means awareness activities should lead customers to education and to purchase. An opposite approach is to send them from awareness phase to purchase and expect high conversions and the result is often mediocrity.
Use your audit tools to map out the connection between customer goals and activities at awareness, evaluation, and decision stages.
Let's take a quick look at an example.
The image below is a sample journey map of a teacher seeking a multimedia editing software for educational use. By mapping out the goals of the teacher and activities, we are able to see where and how to meet those goals.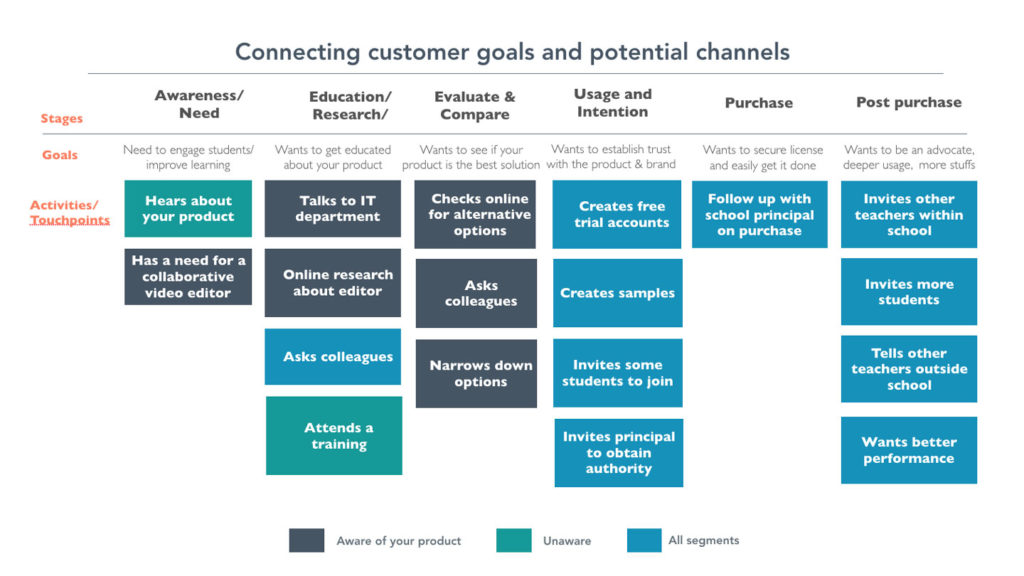 Relevance
After mapping the relationship between customer stage activities, check if your content and channels are relevant to where customers are performing those activities.
Are you using email, search, and social? From experience, email is a much more efficient channel for nurturing than for plain awareness campaigns. This means email is better used for educating customers, showing case studies, and sending promotional offers.
Search engines such as Google or Bing are great tools for getting discovered at the awareness stage. Search as a channel, is not something you can control. But you can find your way to the top of search results by doing SEO and SEM right. Most important, are these relevant to your customers?
How optimised is your website for ranking high on search engines? How relevant are the content in your blog to the questions clients are asking? This is where content relevance comes into the picture.
Map out every piece of your offline and online content, place them in the stage of your customers and continue to ask the question:
"How is this helping customers in solving the problems they have?"
Keep what's relevant, repurpose some content and delete redundant content.
Automation
In the age of driverless cars and robot waiters in Japanese restaurants, you too should be bragging about automation tools at dinner tables. Robots are not only robocop looking objects with boxy heads and shoulders. They are in advertising, in email, and in the messaging apps in our pockets.
After examining the connectedness and relevance of activities, ask the Automation question. What is manual that can be automated?
70% of businesses are using a marketing automation platform. 64% of marketers say they saw benefits of using marketing automation within the first six months of its implementation.
If you have implemented automation, has it saved you time, cost or led to higher conversions?
Use the start, stop, continue model to check your performance.
From paid advertising to support, you can automate almost everything today.
The human intensive parts of your sales funnel activities presents opportunity for automation. They include how you collect data, filter bad data, score leads, nurture leads, qualify leads, transfer leads to sales, and offer support. Most of these activities can be automated with tools such as Autopilot, Mailchimp and Hubspot.
Conversion
This part is relevant if you already have historical data from digital marketing. Using this element of the CRACK model, you want to know how well your channels and content are performing. Are they moving the needle or simply time-killing activities for your marketing team?
Today, most digital marketing tools have powerful analytics that help you measure conversion. How are your paid campaigns on LinkedIn or Google Adwords leading to paying customers? Open your LinkedIn, Mailchimp, or Hubspot analytics dashboard, and map out what content and channels deliver good ROI.
There's something to pay attention here
Some channels might have low conversion at the awareness stage but bring in the most profitable customers to the bottom line. This is why you must have multi-touch attribution tracking in place to avoid making bad judgements. Hubspot, Saleforce, and Appsflyer all offer attribution tools, depending on the nature of your business. If you have a lean marketing budget, you can also start by doing some manual work to figure this out.
For content conversion audit, examine the types of content that had better results in the past. You might have A/B tested different titles, colours, personalisation and so on. Make a detailed playlist of what works and what doesn't. Keep the first and discard the latter.
Key performance indicators
What matters most to your business are your KPIs. KPIs can be business level, departmental or team KPIs. But they must all aligned with your business goals and objectives. Your digital marketing KPIs depend on the stage of your business and the business model.
For example an e-commerce website such as Zalando will care about the average basket value of purchases on their website. Increasing this will speed up growth. Thus, their marketing will focus on using content, channels and other tactics to up-sell customers.
Have you set clear KPIs for your marketing in the past? How have your channels, content, and conversions and the relationships between your activities led to better KPIs?
As you complete your digital marketing audit, you want to ensure your plan going forward aligns with your KPIs and business goals.
Remember, "if you cannot measure it, it doesn't exist". Marketing today is more science than art. Start measuring everywhere.
The CRACK model was developed by us at The F Company to help our clients perform rewarding digital marketing audits. If you find it useful, tell us below. Let us know how to make it better too.
Digital audit is only the first step to designing an effective digital marketing strategy for your business. There are other elements to work on in the checklist below. The information you gather will be useful inputs as you proceed in your strategy design.