This growth hacking case study took place in 2017. Despite marketing success, Haikara faced manufacturing issues and has closed down in 2019.
Project Overview
At The F Company we love using innovative methods to help companies grow. When a Finnish startup Haikara asked us to help them launch a new product with a small budget, we saw it as an opportunity to try something new.
Haikara was a smartwatch for fashion lovers. Created by a famous Finnish designer Harri Koskinen, Haikara focused on simplicity and self-expression. There were no apps or sensors. Instead you could change watch faces and straps to make the watch fit your outfit or personality.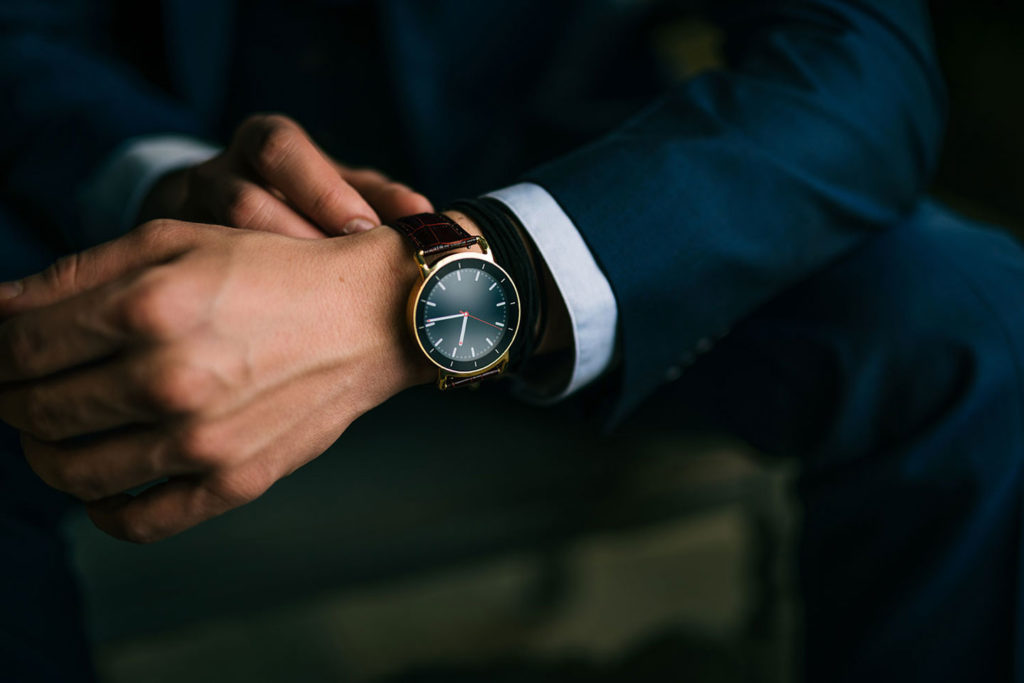 To get from a 3D-render to a real product, Haikara needed money. However, investors wanted to see interest from the market, before committing any serious funds.
Our main goals were therefore finding a target market for the watch, and launching a pre-order campaign to satisfy investors.
Not an easy task, because we would be selling a product that didn't actually exist.
At the start of the growth hacking project we didn't have any of these things:
❌ Product
❌ Market
❌ Buyer personas
❌ Marketing materials
❌ Data
❌ Marketing tools
❌ Website
We had a whooping €75,000 sales target ($85,000) with only €4,000 to spend on advertising. And to top it off, we had only 2 months to prepare. ✌️
Crazy? Yes, yes it is.
Don't try this at home.
Growth hacking case study
Instead of building our own e-commerce store, we chose to launch the Haikara watch on Indiegogo, a global crowdfunding platform. Our logic was that if the campaign succeeded and got featured, we would benefit from Indiegogo's existing traffic.
To convince investors, the campaign had to generate €75,000 worth of pre-orders in one month. At least 30% of that had to be raised in the first 24 hours, if we wanted for Indiegogo to feature us on the front page.
People don't make snap decisions to buy expensive products from unknown brands. Because of that, our core strategy was to generate and warm up as many leads as possible, and hope that they would pre-order the watch when the campaign goes live.
We approached the campaign using our 3-step Growth Marketing model.

Step 1 – Deep Understanding
Normally, this is one of the most time-consuming parts of a growth marketing project. But since there was no prior data to analyse, all initial planning was based on our own experience.
We assumed that our target audience would be professional adults in their 20s, who:
Love fashion
Are brand-aware, and follow top labels
Spend time on social media
Live in major cities – London, New York or Berlin
Use a lot of technology
And might not own a watch yet
Choosing the channels to start from was easy. Since we were creating a new market category with an unknown product. Facebook and Instagram seemed like the best channels to start from.
Little did we know that many of these assumptions would soon be destroyed by data and experimentation.
Step 2 – Marketing Experiments
Experimentation normally plays the key role in growth hacking campaigns. However, there was one challenge.
In established businesses you normally have a lot of data. A dozen experiments might be enough to dramatically improve your results (see our award winning growth hacking case study here).
In Haikara's case, we were starting from scratch. That meant running thousands of marketing experiments to find the best way to sell something that didn't exist.
Some of the things we had to learn:
Is the Haikara watch actually a good idea?
Who are our buyer personas (ideal customers)?
What Haikara product features are exciting to them, and should be developed?
How much would they be willing to pay for the watch?
Which marketing channels work best?
Which marketing tools should we use?
And finally, how to get people to pay a lot of money for something that doesn't exist?
Marketing tool selection
Collecting and analysing this much data in a short time can only be done with a strong marketing technology stack. Once the experiments were defined, we started looking for the most powerful marketing tools within our budget.
These were the must-have requirements for marketing tools:
Generate large amounts of traffic by running hundreds of experimental campaigns
Compare experiments based on KPIs, and automatically turn off the underperformers
Convert traffic into leads
Score leads based on intent, and put them into appropriate lead nurture flows
Nurture leads with relevant personalized content
Push warm leads to buy the Haikara watch on launch day – May 9, 2017
We went with AdEspresso to buy traffic, Instapage to convert it into leads, and Autopilot to nurture leads into purchase. Kickofflabs and ThunderClap (dead now) helped us create a solid referral program (more on that later).
These tools fit our requirements within our small budget. More importantly, they integrated well and shared user data with each other.
Collecting marketing data
To start with, we built 18 different website variations for the watch. Each version targeted a different demographic, and presented the product from a different angle.
Instapage dynamically replaced different page elements and showed them in equal proportions to our visitors. We tested different text, images, colours, videos and lead generation forms.
By sending traffic to the pages, we learned which benefits of the watch people are more excited about, and how we should talk about them.
What we still didn't know was, would anyone actually care about the Haikara watch?
Lead generation
The next step was to find the people who could become our potential customers. This means generating thousands of warm leads to nurture them in time for the campaign. Our internal target was to get under €2 Cost Per Lead (CPL) with a €4000 budget.
We used AdEspresso to create 2500 different ad campaigns in 20 different markets. Why so many? Because we had plenty of things to find out about our buyer personas:
Ages
Genders
Hobbies
Behaviours
Education
Jobs
Likes and dislikes
Favorite brands, etc.
We used KPIs to create automated optimisation rules on AdEspresso. The tool followed campaign performance, turned off the underperforming variations, and re-distributed the budget to the best ones.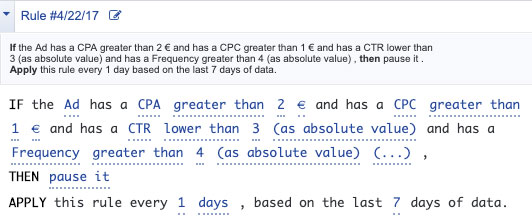 As soon as we got the first 500 leads, we used them to create custom and lookalike Facebook audiences. Combined with demographical learnings, we finally were able to reach ultra-relevant audiences.
After a few weeks, we went from 2500 campaigns and 18 landing pages to just 8 campaigns and 3 pages. They were showing the best messages, to the best people, at the right time.
As the system was learning more about our audience, we were getting more leads at a cheaper price than ever before.
In a few weeks of constant optimization we generated close to 3000 warm, ultra-targeted leads. All with just a €4000 budget.
More importantly, we knew exactly who our future customers would be, and what they care about.
Trust data, not opinions
We had done a great job so far. The leads were in. Yet despite our decades of marketing experience, most of our initial assumptions were wrong.
Instead of young adults, the data we collected clearly showed that our demographic were men in their 30s. They had a managerial job and a family.
They already owned a few pairs of watches, and appreciated Haikara for its mix of design and technology. For them, Haikara was a way to stand out – in a meeting, at the gym, or in a restaurant.
All we had to do is build a relationship with each person, to truly make them fall in love with the watch.
Easy.
Step 3 – Scaling
Lead Nurturing
Leads generated with AdEspresso and Instapage were automatically moved to Autopilot. This tool allows you to create sophisticated marketing automation flows as simply as drawing on a whiteboard.
Autopilot kept our leads engaged by email, from the moment they gave us their information, until it was time to buy.
To make messages more relevant, the tool analyzed hundreds of data points, and used this information to personalize the emails:
Who are the leads?
Where did they come from?
What language do they speak?
Are they more interested in the watch itself, the story behind it, or the famous designer who made it happen?
What time of the day do they prefer to read our content?
We educated them, told them stories and asked questions. We made our contact database feel like part of the Haikara team, and even gave them the opportunity to contribute to product development.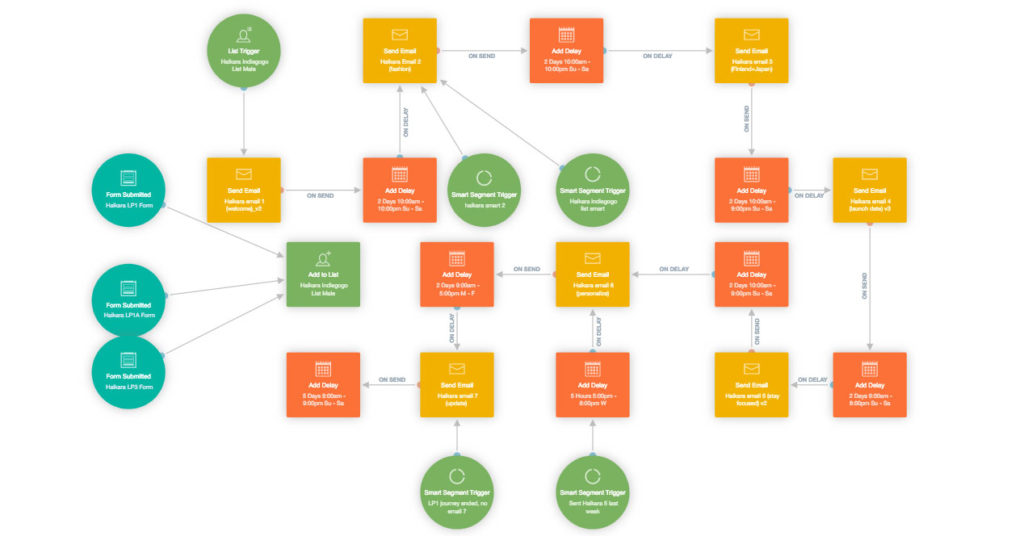 We monitored email performance, and improved the messages that weren't working. Thanks to constant optimisation and data analytics, everyone was getting the information they care about the most.
Autopilot delivered over 43,000 emails during the campaign. Our average email open rate was 46%, which is 3 times higher than the 15% average for e-commerce companies (Mailchimp, 2018). Some of the individual emails scored as high as 80%.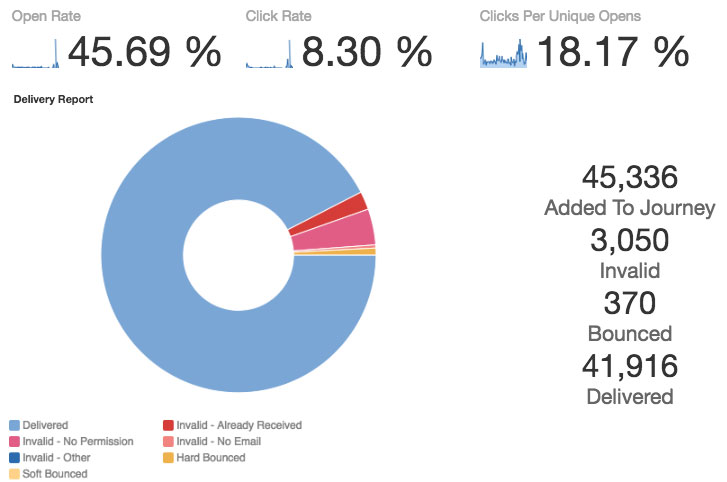 Haikara was no longer a single entity, but thousands of different stories. Each person had their own Haikara brand built around them. Every lead had their own unique reason to fall in love with us.
But even that wasn't all.
Community building
People don't buy what they need, they buy what they want.

Daniel Priestley, Oversubscribed
To make people WANT the Haikara watch, we used our leads to build a community of dedicated supporters. We engaged 4000 Haikara fans on Facebook and Instagram, and made them feel like they are building the product.
With complete transparency, we published regular updates on the campaign preparation progress. We asked for feedback on marketing content and product features. We even created a secret Telegram chat group for 40 of our most hardcore fans, who were able to influence the product development.
The assumption was that the more emotionally invested people will become, the more likely they are to buy.
After all, how can you NOT buy something you helped create…?
Referral program
To take things one step further, we trained Autopilot to identify the people who liked us the most, based on their engagement data. We then built a referral platform with Kickofflabs, asking our biggest fans to share us with friends in exchange for rewards.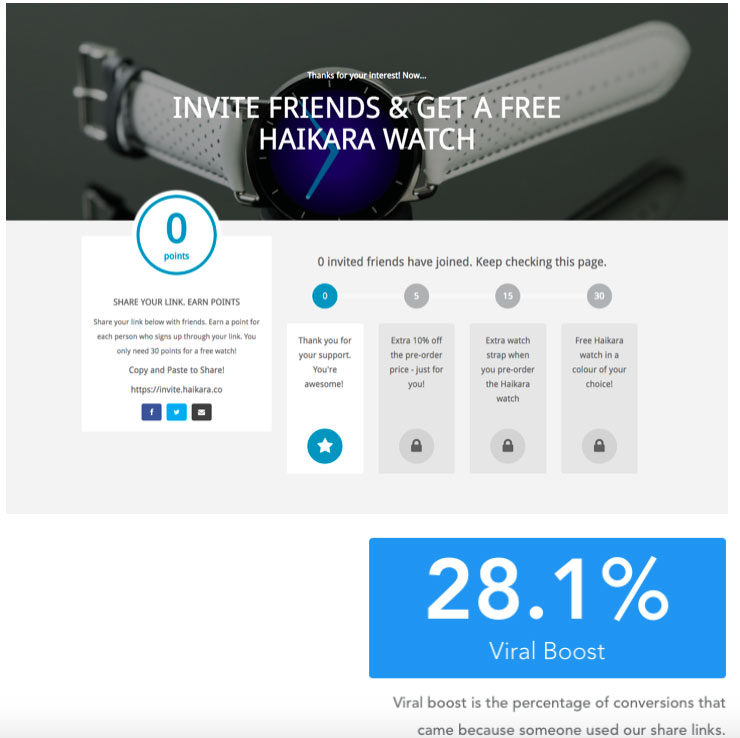 We simply identified the people who loved us, and gave them a great way to spread the word. That alone gave us 28% more hot leads.
Launch Day
No growth hacking case study is complete without the results, right? You're almost there.
We chose May 9, 2017 as the Indiegogo campaign launch date. Because the first 24 hours were so critical to success, we made it easy for people to remember the date. We did it by creating a Facebook event, and generating event invitation links for easy calendar adds. Those were used over 1000 times.
To create urgency, we added special discounts that were valid only for the first few hours. You either pre-order at 17:00 sharp, or end up paying more. First come, first served.
Check out one of the emails below.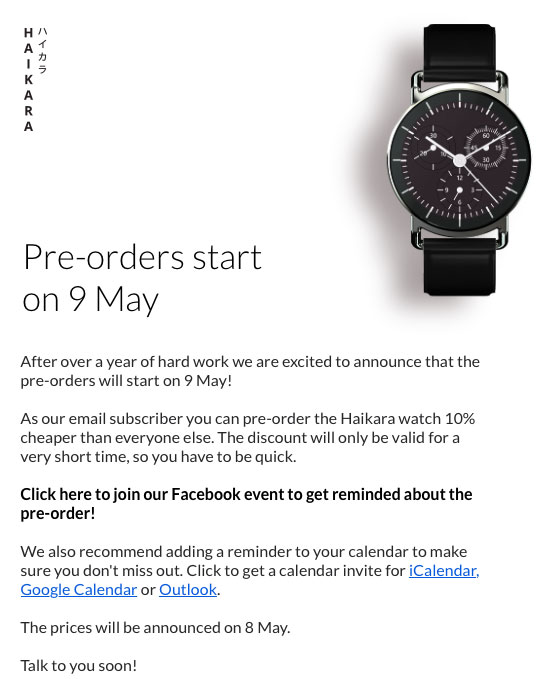 Our lead nurturing had strong engagement throughout the project, culminating in a massive spike at launch. On 9 May we were ready for action.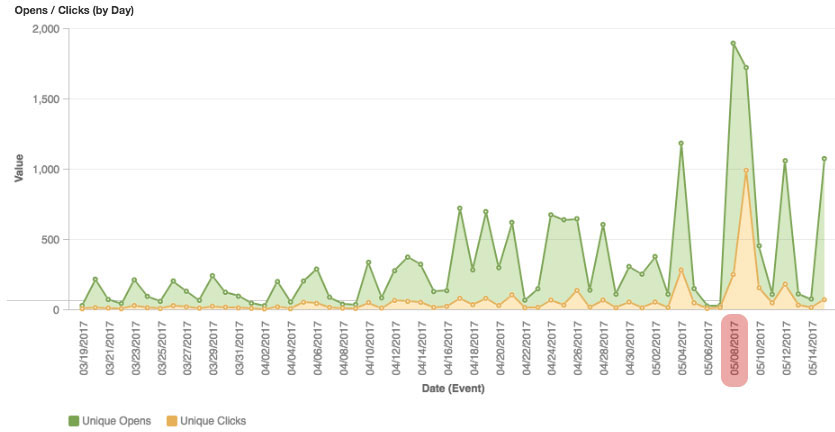 People eagerly waited for the pre-orders to start, ready to take advantage of the early-bird offer. The minute we went live, thousands of potential buyers rushed in to place an order.
We made €100,000 in the first 24 hours, and over €140,000 in total. Almost a thousand people paid us for a product that didn't exist. 🔥🔥🔥
This allowed Haikara to fund product development, attract media attention and find investors. It was one of the fastest growing campaigns in Indiegogo history.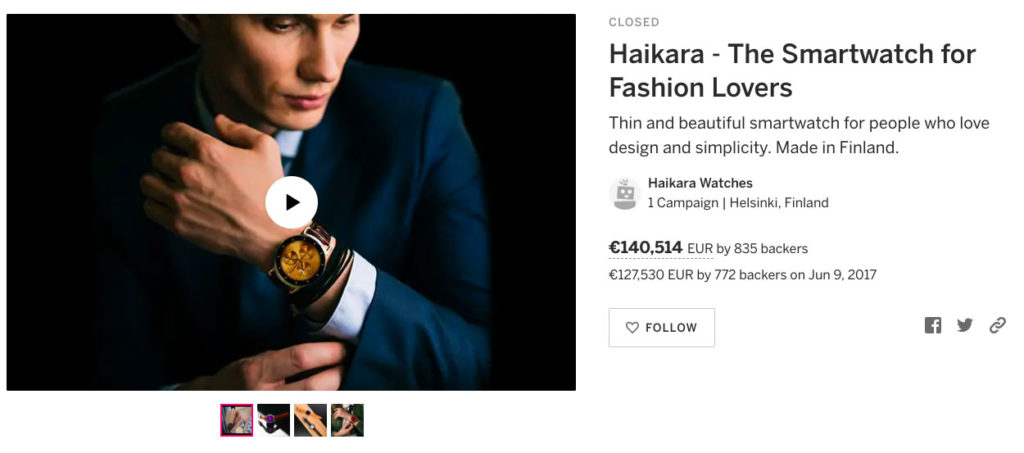 Key Learnings – Growth Hacking Case Study
Because our initial assumptions were incorrect, we proved that marketing decisions should only be based on data. No matter how experienced you are, your opinions will often be wrong.
These results would've been impossible if we did things the usual way – come up with a campaign and wait to see if it works.
Instead, we used growth hacking and experiments to collect massive amounts of data in a short time. We understood exactly who our buyers are, and simply told each person what they wanted to hear.
Embrace growth marketing in your company. It's the best way to stay ahead of the game and get extraordinary results.
Want to start doing growth marketing in your company? Talk to us, and let's find a solution that fits your business.