A week ago we won an SEMrush Award for the Best B2B Campaign in the Nordics. Today we're publishing a detailed case study to inspire you to get the same results with lead generation.
Executive summary
Praecom's online lead generation was slowing down. They needed to understand what's not working, and get their online marketing back on track.
We built a process for rapid experimentation with marketing strategies and tools. Then, we tested over 30 hypotheses for the best lead generation strategy.
In just 5 months we increased Praecom's online B2B lead generation by 13x. We also learned exactly what works and what doesn't for their business. That data was used to build a long-term growth strategy and reposition their brand.
https://www.youtube.com/embed/SCuvz_zGJbc?start=4936&feature=oembedDon't feel like reading? Click to watch a 10-minute video that summarises the case study
Company
Praecom Oy is one of Finland's leading providers of meeting, collaboration, and video conferencing solutions. Praecom's 100% Onnistunut Kokous concept helps companies stop worrying about meetings, and focus on what they do best.
Industry: B2B technology
Business model: Software, hardware and services
Revenue: 2017 – €4,1 million; 2018 – €6,1 million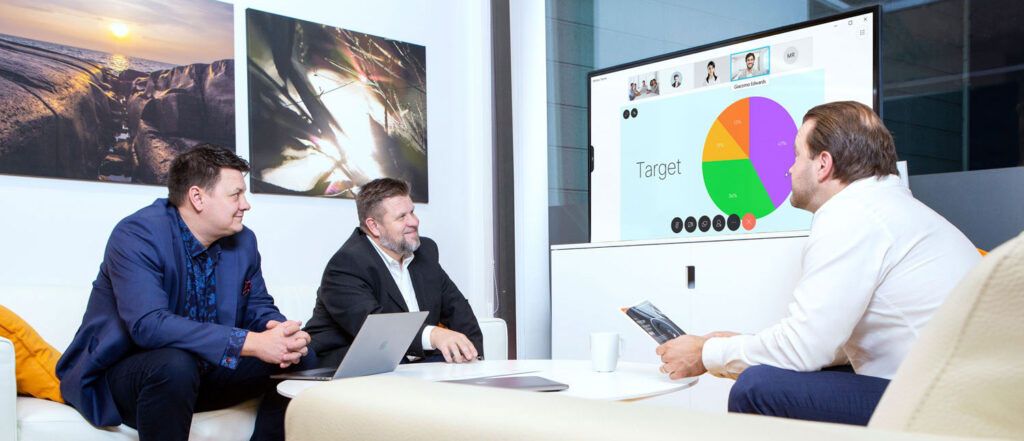 Objectives
Praecom's steady growth slowed down in 2017. Online marketing campaigns were not performing.
The sales team had to work harder than ever to generate new leads, mostly relying on offline sources.
Praecom asked us to help, and we kicked off a 5-month pilot project with two main objectives:
Understand why Praecom's current digital marketing efforts were failing
Find the right strategy and put Praecom back on the path for growth
Our goal was to reach the right decision-makers, and get us on top of their minds. We had studied how to build a digital presence by ourselves.
At some point we realized it's not easy – and we didn't have the proper skills or resources. We needed a partner who had them."Miika LiljedahlCEO, Praecom
Process
Time and resources were limited. Traditional digital marketing strategies were likely to fail. Because we didn't yet know the reason for poor performance, we couldn't just launch one campaign idea and hope that it works.
Instead of putting all eggs in one basket, we designed an experiment-driven model to guide us. It allowed to quickly test multiple growth strategies, and find the ones that fit Praecom.
Here's the process we used:
Deep understanding
Experimentation
Scaling

Step 1 – Deep understanding
Marketers often focus on the top of the iceberg, without seeing the root cause of poor performance. Growth marketing strategies cannot succeed if you are trying to fix the wrong problem.
We spent the first month of the project getting a deep understanding of the challenges:
Interviews with Praecom's team members to understand the value propositions and customer needs
Analysis of CRM, Google Analytics and other marketing data for the past 2 years
Audit of current inbound marketing efforts, including all content
Our detailed analysis confirmed that the original problem definition was incomplete. What we thought was the problem, was actually just a symptom.
Poorly performing lead generation campaigns were not the real issue. Upon a closer look, we realised that the underlying problems were about buyer personas, channels and marketing technology.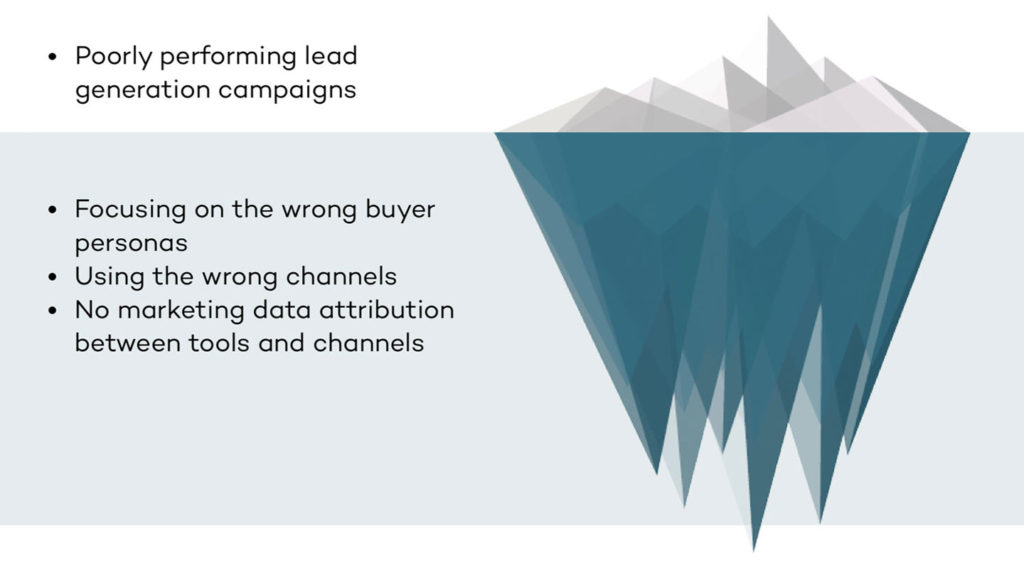 There was one thing left to do before moving to the experiments – crafting the customer journey. Customer journey tells the story of Praecom's customers, and illustrates their interactions with the brand.
We designed a journey template, and put each buyer persona on a timeline below, to help us understand the following:
Customers' needs and motivations at every stage of the buyer journey
What messages we should use to address those needs
What channels could help us reach the personas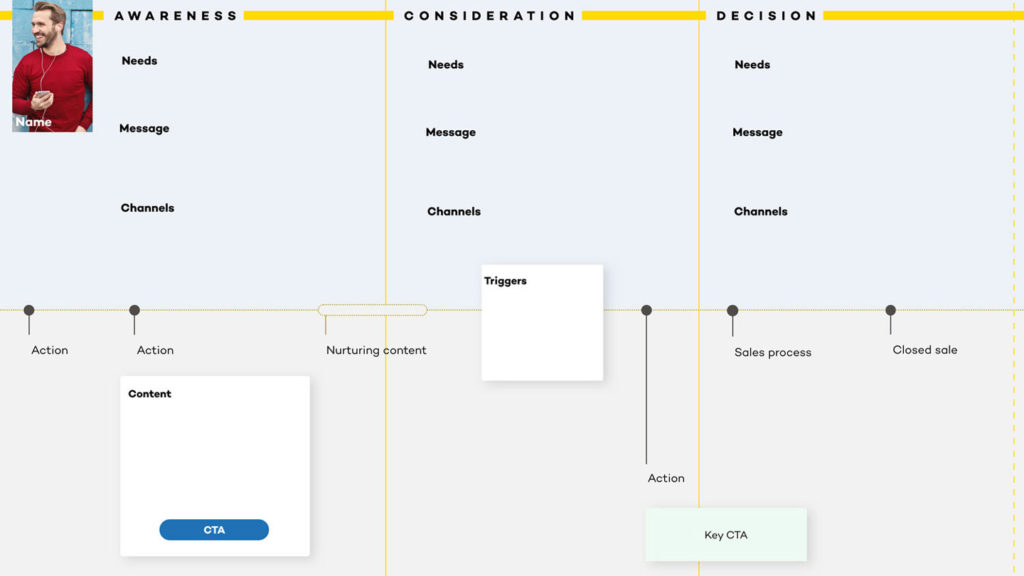 Step 2 – Experimentation
Once we started getting an understanding of what the challenges are, something became immediately clear. There could be multiple solutions to each problem.
Without trying them all and comparing data, there would be no way of knowing what works best for Praecom. Experiments therefore became the cornerstone of our process.
We created 30 hypotheses for what actions could have the most impact on Praecom's growth. These included strategies, tools, creatives and channels.
For example:
How do we know if Praecom's messaging is truly effective?
Would the existing buyer persona survive validation with marketing data?
What new marketing channels can we use to reach our audience and generate leads?
Would introducing a new marketing technology stack help us get a better ROI?
Could we personalise the customer journeys by sharing data between our marketing and sales tools?
Would developing a new lead scoring model help us get better quality leads?
Using the template below we could organize the ideas, and put them in the right stage of the customer journey.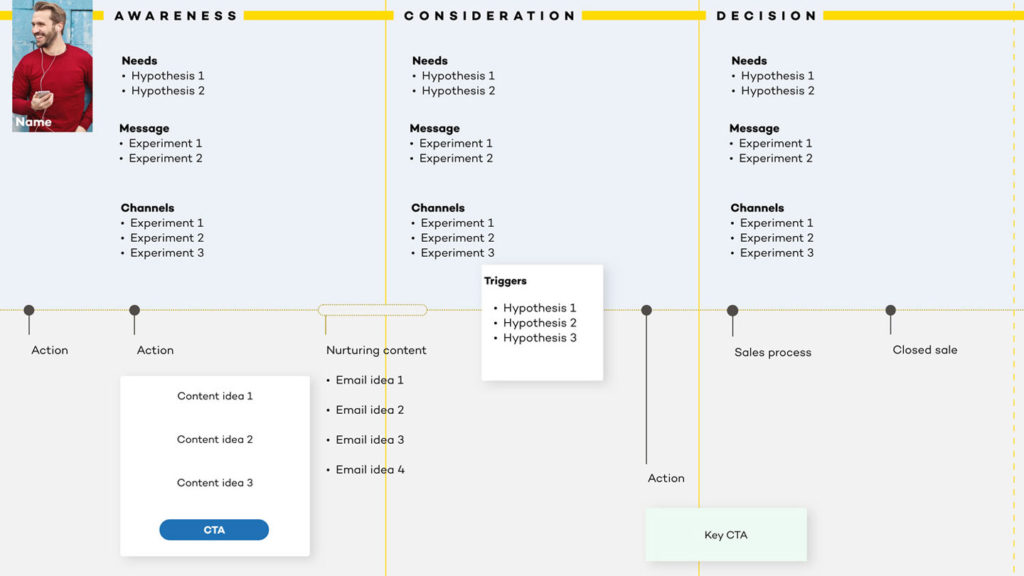 Instead of trying the ideas one by one, we launched most of them at the same time. That way we could collect data and test the experiments against each other.
To test a lot of ideas we needed a lot of traffic. We launched 120 ad campaigns across 15 website variations. Each one had different creatives, demographics or buyer personas.
We used adtech tools with machine-learning capabilities, such as AdEspresso. They allowed us to test hundreds of variations, collect data, and automatically prioritise the winners.
After a few weeks we were left with just 8 campaigns and 3 pages. They were serving the best performing messages to the most relevant buyer personas.

At the same time we tested 15 different marketing channels in hopes to better reach our audience. Many of them didn't work. Others brought excellent results, especially in combination with each other.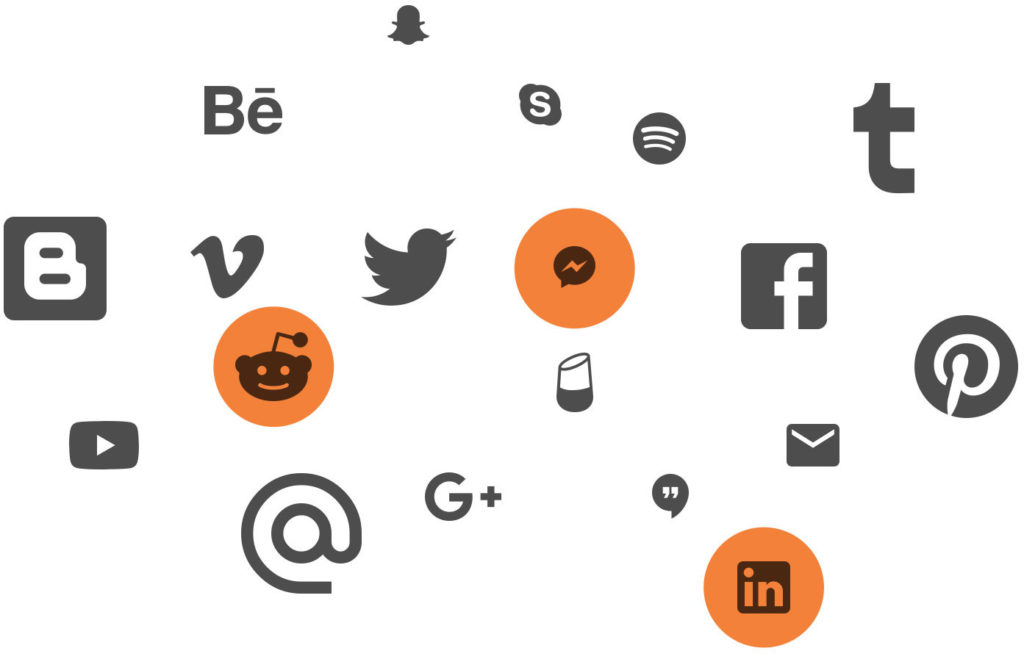 Step 3 – Scaling
Our process was fueled by marketing data. We collected data from each experiment, analysed it and made improvements in real time. It allowed us to stop the underperforming campaigns, and scale the ideas that worked.
We wanted to learn things like:
Who are the perfect buyer personas?
Where do they live and work?
What are their needs and wants?
Which side of videoconferencing to they care about? (Technical implementation? How to make teamwork more effective?)
What type of content do they consume? Where? When?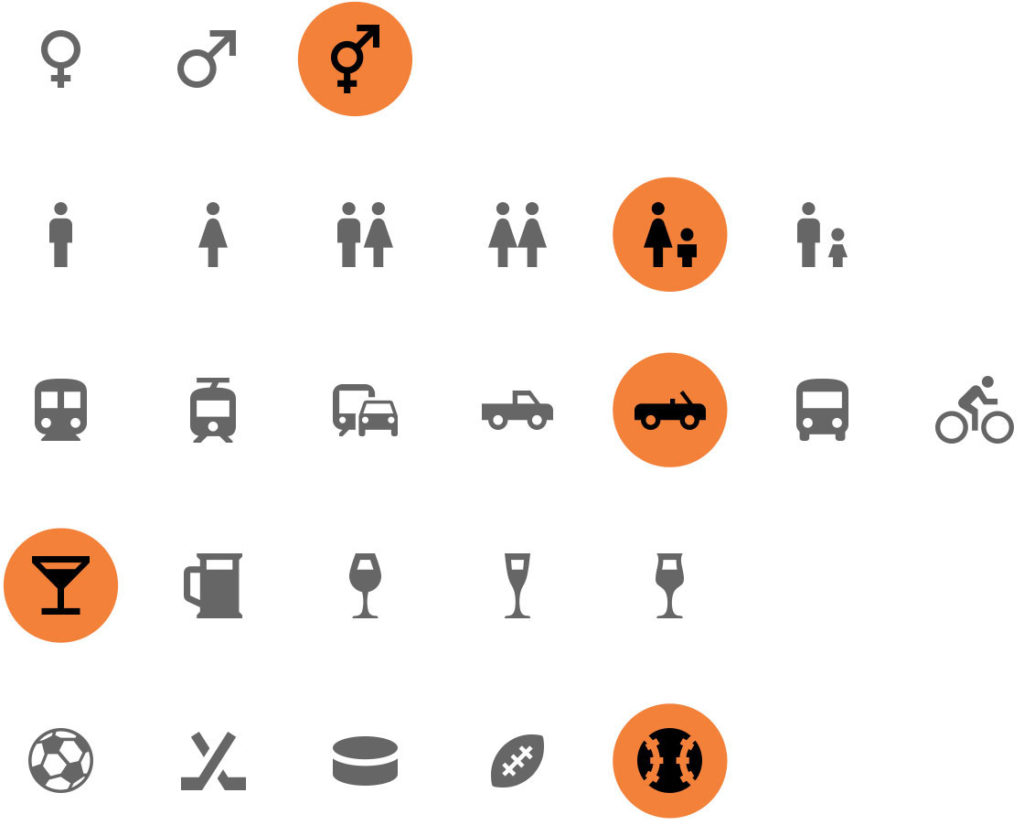 Data was shared between the ad campaigns, marketing automation and CRM. We used the findings to personalise the way we talked to each lead. For example:
| | | |
| --- | --- | --- |
| Persona | Core need | Nurturing content |
| Sales team lead from an SME | Boost business results | How modern collaboration tools can make remote work more effective for his team |
| IT manager from a large corporation | Meeting tech that doesn't break all the time | Cases about the latest video conferencing solutions that have less downtime |
Email nurturing for captured leads was done through ActiveCampaign. We used the collected data, and a lead scoring model, to identify their purchase intent. Leads were then put in the right nurture funnel to be warmed up and prepared for sales. Only the sales-ready leads were sent to Praecom's sales team.
What is a "sales-ready lead"?
For Praecom, it meant the right combination of a right customer profile, and their digital behaviour. We plugged this data into a lead scoring model that automatically identified high-value leads.
Collaboration with Praecom's sales team was critical for success. We used their real-time feedback to prioritize campaigns based on lead quality. We also improved the lead capturing process by testing it with the sales team.
As the experiments and optimisation were work was ongoing, we started seeing results. The number of leads was steadily going up, and the cost per lead was decreasing.
Results
Our continuous experimentation and optimization cycle produced a strong growth in lead generation. We acquired 13x more B2B leads than before in just 5 months. A significant part of these leads were sales-ready from the get-go.
The nurture emails were also well-received. They were opened 44% of the time and clicked through at a 8.2% rate – 3X and 4X improvements compared to Praecom's previous results.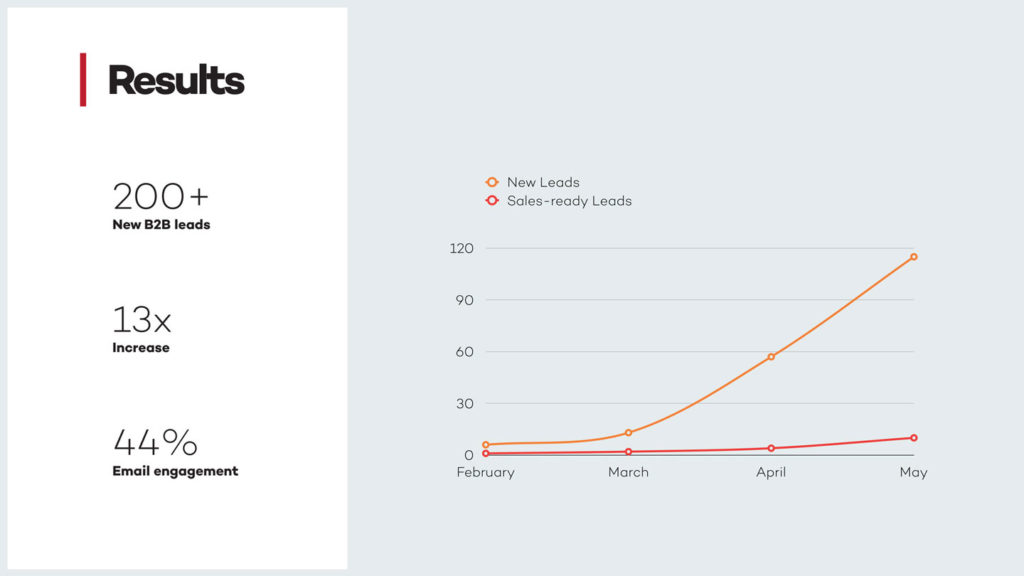 Conclusion
Leads are great, but there was something even more important. Thanks to our process, we learned exactly what works and what doesn't for Praecom's marketing.
The data clearly showed us what is the right way forward. We now had:
The most relevant buyer personas
Detailed customer journeys, from awareness to purchase
The right marketing channels
A clear understanding of what marketing technology we need
Data on the most effective messaging and creatives
The learnings were used to start a long-term project between Praecom and The F Company. We are now changing their entire marketing strategy for sustainable growth.With The F Company we felt our marketing was in the right hands.
They are a skilled, innovative agency that has a fresh approach to marketing – they're not stuck in the old ways of doing things."Miika LiljedahlCEO, Praecom
Key learnings
Many companies make the mistake of choosing their digital strategy based on opinions or past experiences. No matter how smart you are, the world is moving too quickly for that approach to work.
Build an experiment-based process in your marketing team
Try new things. Don't get stuck in the old ways of doing marketing
Listen to data. It will never lead you astray
Want to grow your business online? Contact us, and let's find a solution that fits your unique situation.
Or call us at +358 45 221 0390