Background
This detailed growth marketing case study was shortlisted for the Grand One 2020 award in the Best Growth Marketing Campaign in Finland category.
To set the tone for the case study, let's take a look at how the project began.
Praecom Oy is Finland's leading company specializing in meeting, collaboration, and video conferencing technology.
When Praecom first approached us in spring 2018, the sales had been flat for 3 years. Online campaigns were not working. Praecom's sales team had to work hard to generate new leads, mostly relying on offline sources.

Praecom had tried investing into some of the modern methods like marketing automation, video content, and influencers. However, none of those brought more leads, and Praecom wanted to know why.
They asked us to find out what's wrong, and find new ways for the company to generate B2B leads online.
What we did
We started with a 5-month pilot project. Our strategy was to build a process that would allow us to test as many ideas as possible in a short time.
We used customer journeys as our Growth Marketing framework. Because lead generation was the goal of the project, we decided to focus on the Awareness stage of the journey.
It immediately became clear that there are too many possible bottlenecks. Digital marketing was not performing in its current state. So instead of guessing what the best solution might be, we turned the entire customer journey into an experiment.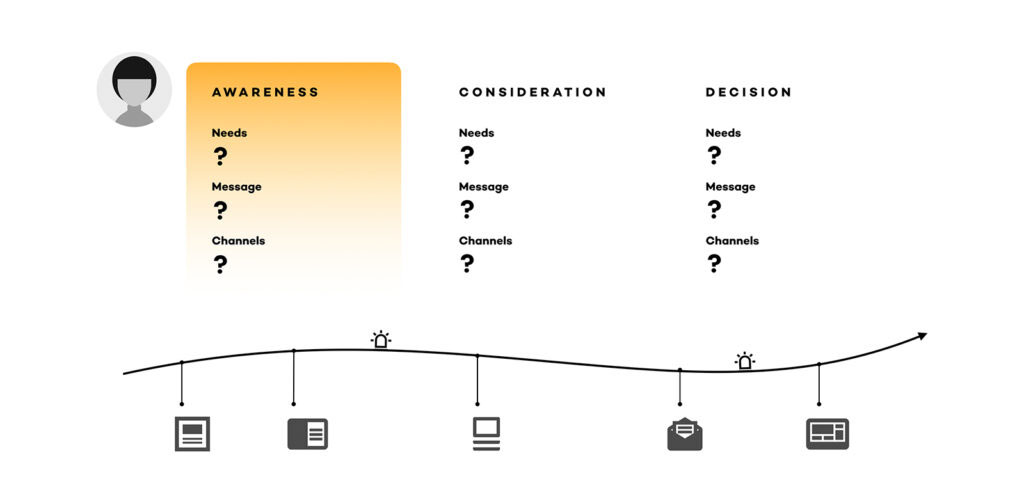 Results
We ran 35 different marketing experiments over the course of 4 months. We tested different buyer personas, channels, messages and value propositions. Marketing technology helped us analyse massive amounts of data, and make quick improvements. In the end, we learned a lot of things that don't work for Praecom, and a few things that worked so well we could scale them.
The result?

This case won us the SEM Rush Best Nordic B2B Campaign Award in 2019.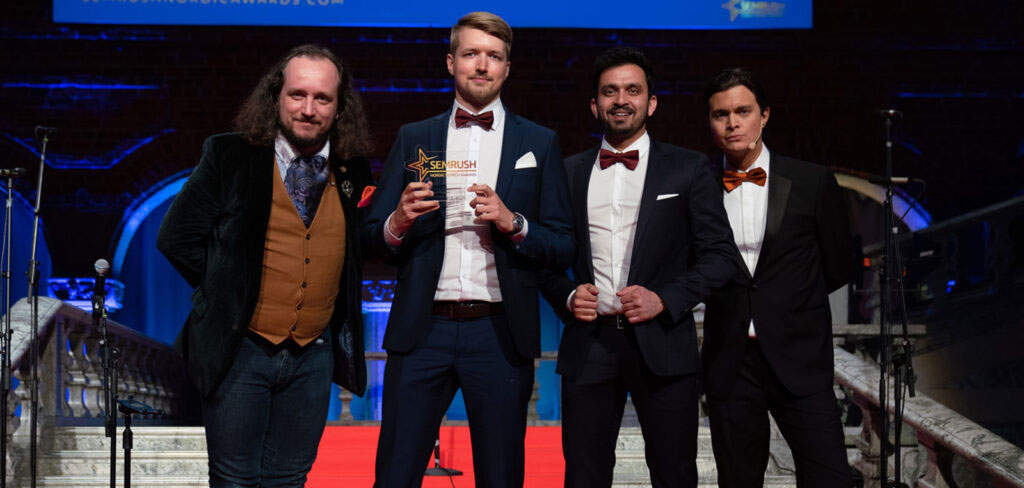 Now you know how the project began. Back to the Grand One case…
Grand One 2020 case
It was now January 2019. New project and new possibilities.
Based on the 2018 results, Praecom was ready to invest more into B2B marketing. The focus shifted towards reaching decision makers in larger Finnish companies.
To differentiate from competition, together with the client we launched a service concept called 100% Successful Meetings, where Praecom takes care of all meeting-related technology, including the rooms themselves. We started by designing Praecom a brand new website on Hubspot, relying on 2018 data to optimise both organic reach and conversion rates.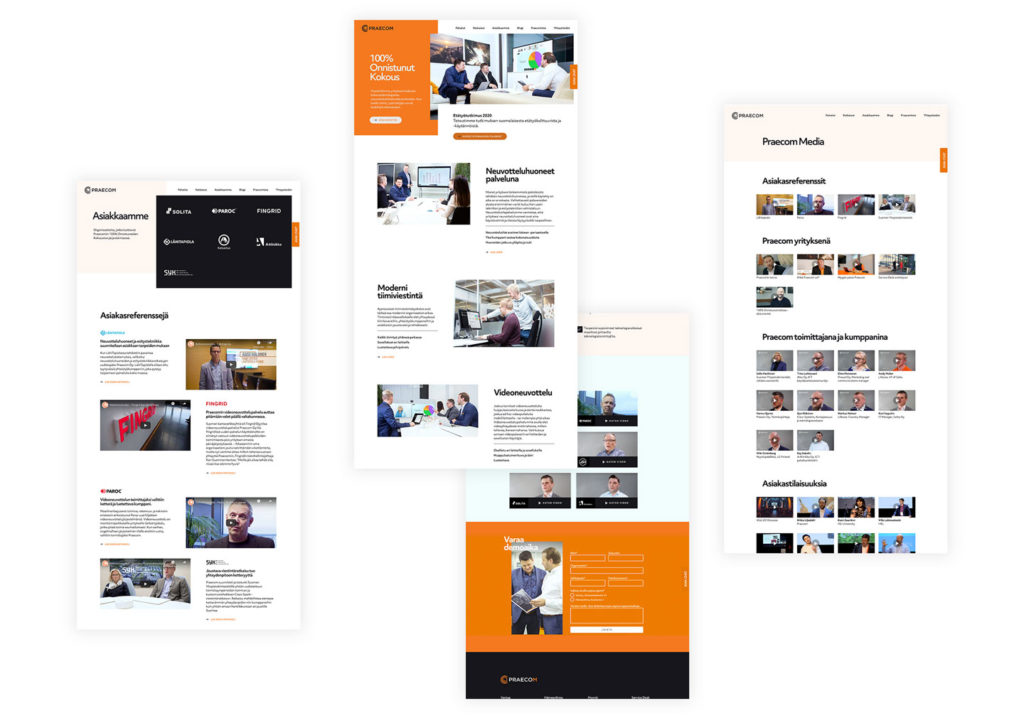 Yet despite a strong 2018, we still had a lot of open questions. We now knew how to get B2B leads, but to make a real impact we had to learn how to systematically convert leads into sales.
The focus of the 2019 project has shifted from Awareness to the Consideration and Decision stages of the customer journey. Our new goals were:
Sales Qualified Leads, and
Successful sales meetings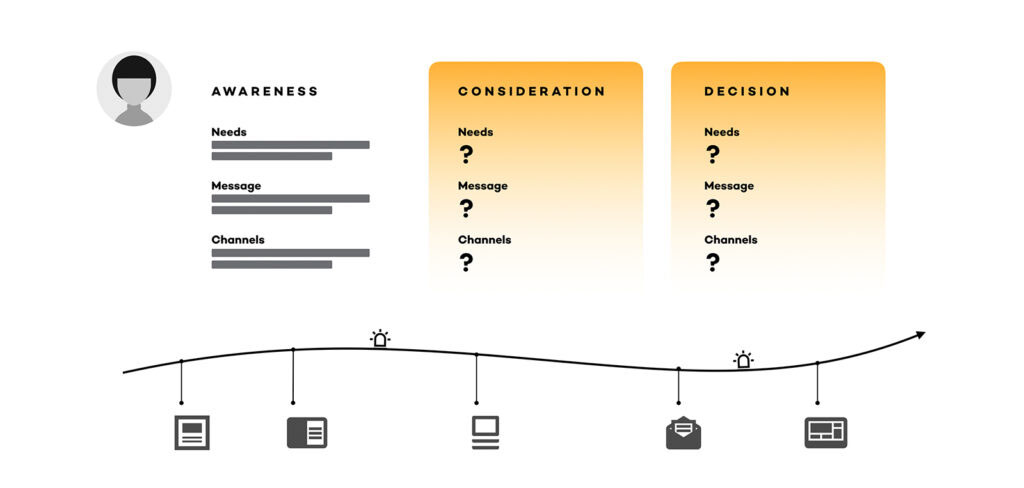 It was time to evolve our lead generation efforts with a new Growth Marketing campaign. To bring clarity to the rest of the customer journey, we had to answer these questions:
How to reach and convert the decision makers?
How to align Praecom's sales and marketing for efficient lead flow?
Our growth marketing process
Experiments were at the core of our Growth Marketing process. We rapidly tested new hypotheses to find the best ways to grow.

We used Google Data Studio to combine and analyse data from Google Analytics, ad platforms and Hubspot. Customer journeys were used as a framework to guide our experiments. We gradually tested each component of the journey, until we found the best performing variations.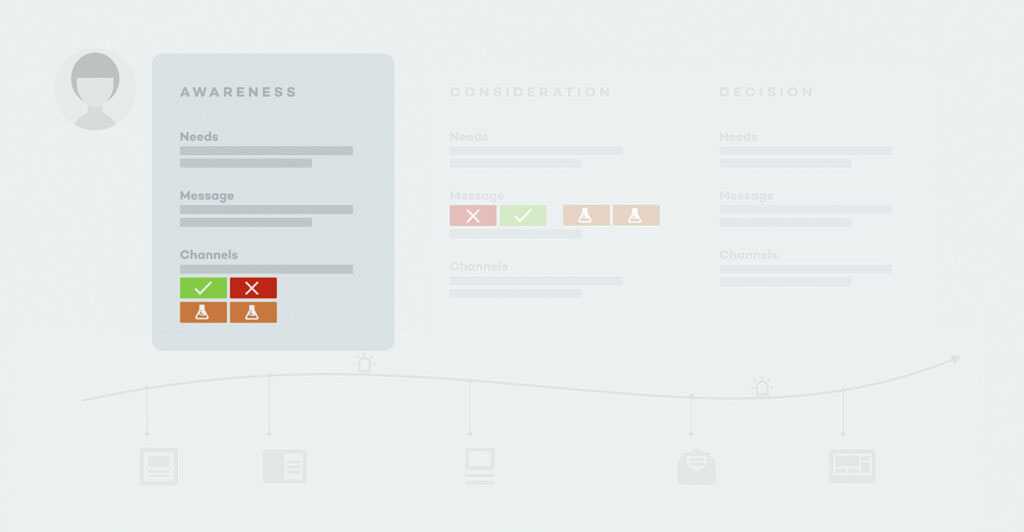 Challenge 1 – Finding the winning combination: ideal buyer persona, message and channel?
In 2018 we collected data about the best buyer personas, messages and channels for SMEs. We could reach people and convert them into leads. But now Praecom wanted to reach bigger companies. More question marks, and more complexity.
Experiment-driven growth marketing to the rescue!
Experiments
Praecom's new positioning and 2018 data provided a good starting point for crafting the ideal lead profile for sales. We built this data into a fully-automated process that only delivers the best leads to sales:
Lead generation
Lead nurturing
Lead scoring
Sales Qualified Lead handover
Now we had to refine the process, starting with finding the new buyer personas.
Praecom's 100% Successful Meeting service affects everyone in their client companies. From those who buy the service, to people who actually use the conference rooms. We believed that there could be several decision-makers in large organisations.
This means we had to test multiple buyer personas. To do that, we experimented with targeting criteria across different channels. We tested things like:
Demographical profiles, such as ages and genders
Educational backgrounds
Job descriptions and histories
Interests, such as technology or management techniques
Finding the perfect buyer persona was not the only challenge. The message had to be personalized to the buyer persona's needs as well. Building on top of customer journeys, we came up with different message and content experiments for each of the buyer personas:
Do our buyers care about the latest technology?
Or maybe real-time collaboration software?
Perhaps, what really matters is running hassle-free successful meetings with their team?
What type of content do they prefer? Articles, blogs, white papers, videos or something completely different?
Exploring and testing buying triggers was particularly interesting. How do our buyers move from Consideration to Purchase? What could indicate that a lead might need to look for meeting technology services? If the sales contacted them at the right time and with the right message, then setting up a meeting would be a no-brainer.
We came up with several trigger experiments together with Praecom's team, and then prioritized the best ones to experiment with. These ideas included:
Changes within the company
Acquiring new technology
Changing offices
Ending contracts
New hires
Public tendering processes
etc.
We tested the messages and triggers across paid and organic channels, and followed the progress with a set of KPIs. We were starting to see clear differences in how different messages performed.
As the project proceeded, one of the personas also looked stronger and stronger. It brought us most of the Sales Qualified Leads at the lowest CPL (Cost Per Lead).
However, leads alone weren't enough to help Praecom grow.

Challenge 2 – How to align Praecom's sales and marketing?
Leads are great. But how about those sales meetings…?
We were getting lots of Sales Qualified Leads that seemed promising. But after the lead was handed over to sales we had almost no feedback about the lead quality. Marketing and sales still worked in silos.
This was crucial to fix, since our goal was to get Praecom more sales meetings that could turn into deals.
We could measure everything on the marketing side, sure. Yet, without real-time data from the sales team, we didn't know whether any of our experiments were successful. These barriers had to go.
We had to establish a real-time feedback loop between sales and marketing – from the first touch, to sales meetings, to purchase.
We also noticed that Praecom's team had difficulties following up with new leads. There were too many manual tasks in sorting and handling the leads. Plus, the sales teams' days were already filled with proposals and meetings. Slow follow-up was costing us potential sales.
How to enable a fast follow-up and data flow in a B2B company?
Experiments
Technology was the starting point. We had implemented Hubspot and Salesforce together with Praecom. The next step was to build integrations to enable real-time data flow across the customer journey.
With Hubspot and Salesforce sharing data in real time, both sales and marketing teams knew exactly what each touchpoint was like for every lead.
With tech taken care of, we moved to the handover process. We experimented with 4 different lead handover methods:
Personally delivering leads to the sales team
Email notifications of a new lead
Direct lead import to Salesforce
And even using an outsourced company to book meetings
After several months of testing, the last method proved to be the most effective. Now the leads were contacted in a timely manner – along with notes about the call, the lead's needs and the overall lead quality. Although the cost of each meeting went up, the number of new meetings more than made up for it. Success!
Now the data flowed freely across the entire customer journey. There was a systematic experimentation process set up on the marketing side, and an effective process for following up with leads on the sales side.
How good were the leads? Was this the right buyer persona to target, or story to tell? Did our assumption of a quality sales lead translate to quality meetings as well? Now we could answer all these questions, and see how each marketing experiment impacted the lead quality.
Campaign Results
From February to November 2019 we ran 203 marketing experiments, almost 60 more than in 2018. Including:
47 different ad campaigns, testing different messaging and value propositions, targeting 4 personas across 4 different channels
4 lead handover methods
8 different lead triggers
In the end, the data showed us the 11 best campaigns to focus on. We were delivering the best messages, to the best buyer personas, at the best possible time.
We learned a lot of things that don't work, and a handful of things that work really well. By scaling the winners we got to results that dwarf our 2018 project.
Ready?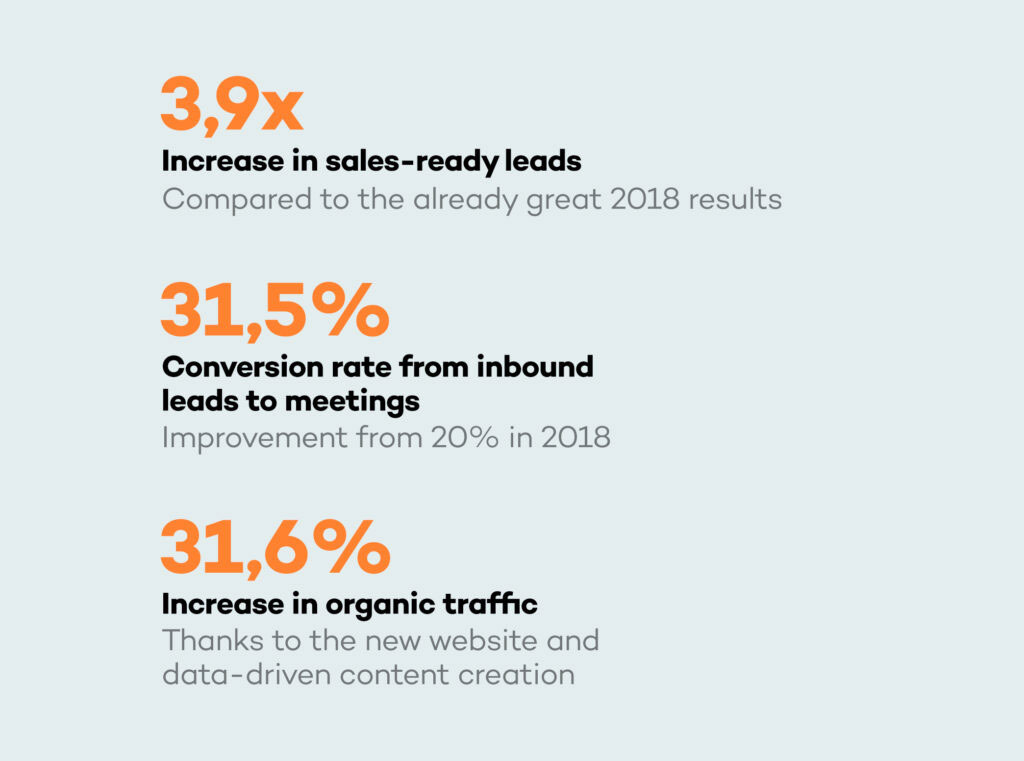 Traditional marketing approach would have been to come up with a creative strategy, invest a lot into awareness campaigns, then cross your fingers and hope you are right. Thanks to experiment-driven growth marketing we were able to rapidly test over 200 assumptions, and find the ones that work best.
Last year was Praecom's best year ever. With more to come.
---
Project team
Pasi Anttila – Project Manager on client's side
David Blinov – Project Manager (H1/2019), Advisor
Mikko Latva-Koivisto – Project Manager (H2/2019)
Matias Koski – Growth Marketer
Erika Natunen – Content Marketer
Ravi Kumar – Design & Technology
Patricia Eskelinen – Design